Blue eyes in 45 minutes
Viviane, 62, has opted for aesthetic surgery to permanently change the colour of her eyes from dark brown to Riviera Blue. This vivacious pensioner from southern France travelled hundreds of kilometres to be operated upon by Dr Ferrari. For her, changing eye colour was a way of going back to her roots, by having the same eyes as her father. A television report and a newspaper article were devoted to her breathtaking change.
A process in stages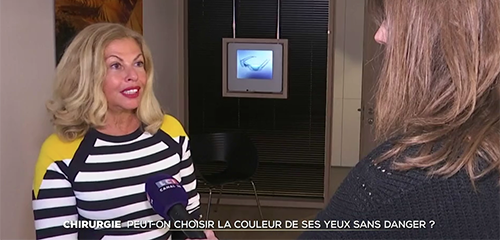 Viviane remembers exactly when she decided to go for an eye colour change: 'I was stupefied by a television report that said there was a surgeon who changed people's eye colour! I immediately grabbed a pen and wrote down the name of that wizard: Dr Ferrari. Things moved really fast from that point, since I was on a train to Strasbourg a mere 10 days later.'
She emphasises that is crucial to run simulations before making the choice of colour: 'Dr Ferrari advised me to select Riviera Blue after the colour simulation (which I would strongly recommend). I took the initiative of adding a touch of Ocean to that colour for more depth.'

She remembers the day of the procedure: ' Dr Ferrari team were just amazing. They took excellent care of me. During the 45-minute long procedure, I was accompanied by the voice and advice of his assistant and the whole team!'

Viviane was extremely moved to discover her new eyes: 'This is it. This when I look into a mirror. I opened my eyes, and I will never forget what it felt like to see my new eyes! I was over the moon, delighted, surprised, I really liked what I saw, and soon saw the same reaction in the way everyone else looked at me. My friends are absolutely amazed by my sea blue eyes. I feel beautiful! I only have this to say to Dr Ferrari: bravo and thank you!'
A sought-after change

The French new channel LCI devoted a report to the Neoris technique using the testimonial of Viviane. She told them of the reason for her choice: 'I have always liked beautiful blue eyes. I wanted a change, some variety, more light." Her wish was fulfilled Dr Ferrari in a 45-minute long procedure under local anaesthetic.

Her account was supplemented by the local French daily Le Parisien, which turned over a whole page to the transformation of Viviane and the method itself. Before making the leap, Viviane had to first get the opinion of her eye doctor. When he gave the green light, she knew nothing could hold her back.

And no serious complication was observed. Dr Ferrari points out that it is possible to experience dazzling or dry eyes for a few days following the operation.

Every week, seven to eight patients get their eye colour changed using the Neoris technique, which has already been applied to over 400 patients.
---
"Dr Ferrari's team were just amazing"

— Viviane
---